(When I was cleaning my room this week, I came across my assignments from high school. This poem below is one of them. In order to protect the integrity, I've left the meanings intact. It was meant to be a free form.
Another interesting note: My brother, Salman, and I wrote it together- back in 2000
With all the recent "Allegorical Absurdity", this comes as a change.
Final note: The post's like many others - is dedicated to the REDNESS of my life. I love you, and you alone ;) )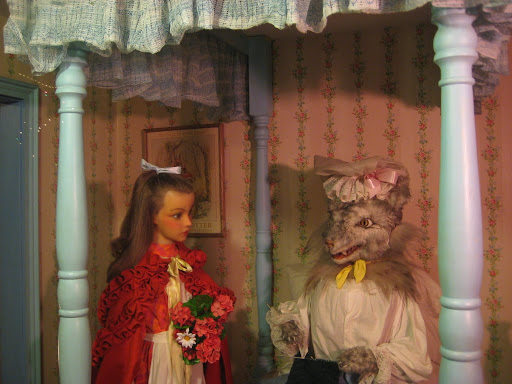 Credit: Faraz - Wax Museum
DISCLAIMER: Please be warned some pictures are rather gory.
the red riding hood
was playing a play-station game
when her mother forced her
to go visit her grandma
she drove in her Mercedes-Benz
with a laptop for a present
(her mother insisted)
On her way she met
a handsome wolf
greeted him and
there - his mouth watered.
Inquired the intention of her trip
she agreed to give him a ride
Fully aware of his intentions, she was.
having heard the red riding hood story
from her grandma
She hated her grandma
Bossy and irritating - she was.
The Wolf thought the grandma
would be certainly tasty.
With common intentions,
they were together and made a great team.
Thus the grandma made a great feast
for the wolf.
He said Grace and thanked
the modern world
for teenagers were too ignorant for words.